College of environment and planning and Kaifeng Meteorological Bureau discuss high quality cooperation and development
Author: Tianning Zhang Editor in charge: Hao Chen
On the afternoon of February 3, the College of environment and planning and Kaifeng Meteorological Bureau held a forum in Henan University to discuss cooperation and start a new journey. Main members of Henan Key Laboratory of comprehensive prevention and control of air pollution and ecological security, Henan Research Institute of spatiotemporal big data industry technology, and Kaifeng Key Laboratory of meteorological disaster prevention and reduction attended the forum.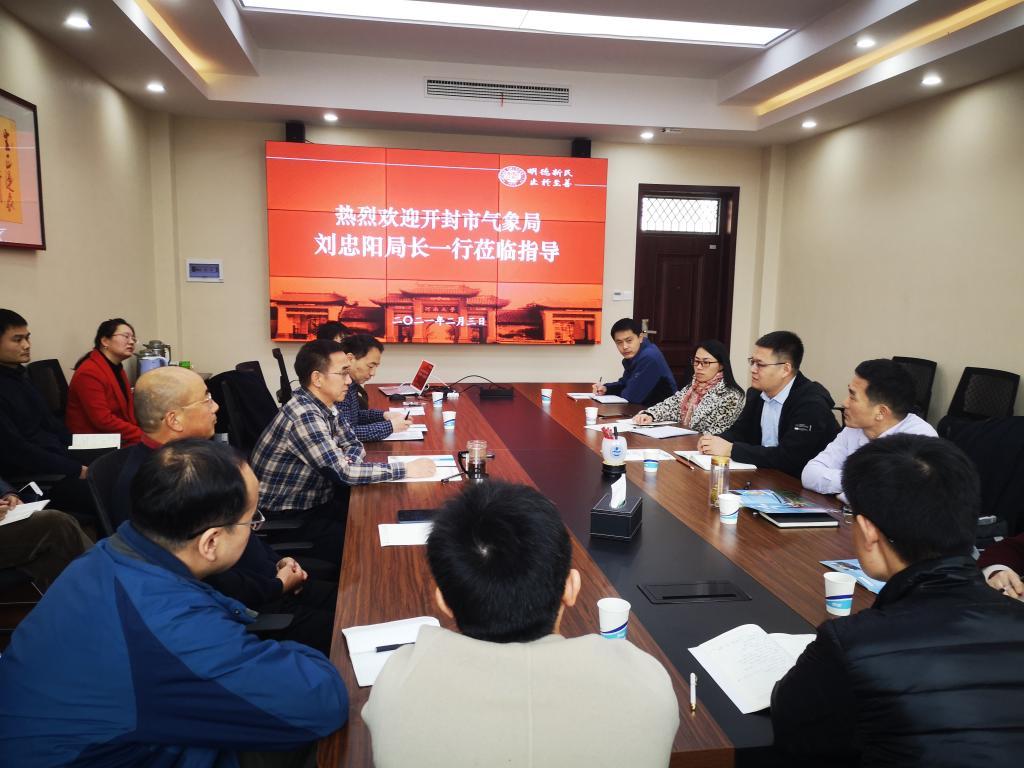 Shenglei Fu, President of the College of environment and planning, welcomed the arrival of Zhongyang Liu, director of Kaifeng Meteorological Bureau, and introduced the development status and characteristic advantages of the college. He said that geography, as a dominant discipline in Henan Province, has entered a period of vigorous development with the strong support of the provincial Party committee and government, Kaifeng City and Henan University. The recently approved national field scientific observation and research station of forest ecosystem in Dabie Mountain of Henan Province has injected new vitality into the development of geography related disciplines.
Zhongyang Liu, director of Kaifeng Meteorological Bureau, introduced that in recent years, under the leadership and support of the Provincial Meteorological Bureau, Kaifeng Municipal Party committee and government, Kaifeng meteorological work has made a series of achievements in meteorological science and technology, business development, and initially built a "Meteorological +" development pattern. He hoped that both sides would give full play to their own advantages, carry out strong cooperation, and jointly promote personnel training, scientific and technological research and development, and achievements transformation.
The participants of the two sides had in-depth exchanges on geographic information technology, air pollution prevention and control, weather forecast, agrometeorology, construction and sharing of big data platform and other related fields, and agreed to use the laboratory platforms of the two sides to carry out in-depth research on air pollution precise control, disastrous weather forecast and early warning, ecological protection of the Yellow River Basin, and key technologies of smart agriculture Cooperation.
After the discussion, both sides agreed that the cooperation has broad space and prospects. We should closely focus on the national strategy, integrate into the local economic and social development plan, accelerate scientific and technological innovation and application of achievements, and better serve the construction of beautiful Kaifeng and high-quality Kaifeng.