College of environment and planning held the award cermony of "Li kehuang geography innovation scholarship" of Henan University
Author: Niu Yingying photographer: Liu Shuping editor in charge: Liu yaoshuang
On the morning of January 11, the award ceremony of "Li kehuang geography innovation scholarship" of Henan University was held in Conference Room 301 of College of environment and planning. Mrs. Zhao Jiazhen, wife of Li kehuang, Liu Bo, director of the office of alumni work and education development foundation of Henan University, Qiao Jiajun, executive dean of School of environment and planning, Xu Xiaojun, deputy secretary of the Party committee, Ma Jianhua, famous teacher of Henan Province, and award-winning students attended the award ceremony, which was presided over by Xu Xiaojun.
On behalf of the alumni work and education development foundation, Liu Bo expressed his heartfelt thanks and respect to Professor Li kehuang. She reviewed Professor Li kehuang's lifelong pursuit of academic road, his tireless training of geoscience talents and his outstanding contribution to the geography of Henan University, and expressed her affirmation and encouragement to the award-winning students.
In his speech, Qiao Jiajun recalled the touching past of Li kehuang's education of Taoli on the platform of Sanchi. He called on the students to think of the source after drinking water, be grateful, and strive to grow into the pillars of the country. He carried forward the spirit of Heda and the spirit of geographer, so as to promote the development of geography and make geography more brilliant and brilliant tomorrow.
In her speech, Mr. Zhao Jiazhen briefly reviewed the life of Comrade Li kehuang. She said that Comrade Ke Huang had devoted all his life to the research and innovation of Geosciences. At the last moment of his life, he still cared about the party and the country, how to repay the society and how to feed back the people. She put forward three points of hope to the students: first, under the guidance of the party, establish a correct world outlook, outlook on life and values, love the motherland, care for the people, and firm political determination; second, love their own profession and devote themselves to science; do a good job in life planning, endure loneliness and resist temptation; do your own things and go your own way; third, take good care of your body, develop good living habits, and increase your income Strong physique, work and rest. All the words express the expectation for the development of geography and the concern for the students of later generations, which makes people moved.
Zhang Yanwen of the 2017 grade geographical science experimental class, as the award-winning representative, spoke to thank Mr. Li kehuang and his family for their concern for the geoscience youth, the development platform provided by the Environmental Planning Institute and the hard cultivation of the teachers, and expressed the ambition and aspiration of studying hard, contributing to the geoscience cause of the motherland and passing on the love.
Liu Bo, Qiao Jiajun and Zhao Jiazhen presented awards to the three winners. Zhao Jiazhen presented Li kehuang's anthology to the three winners and took a group photo.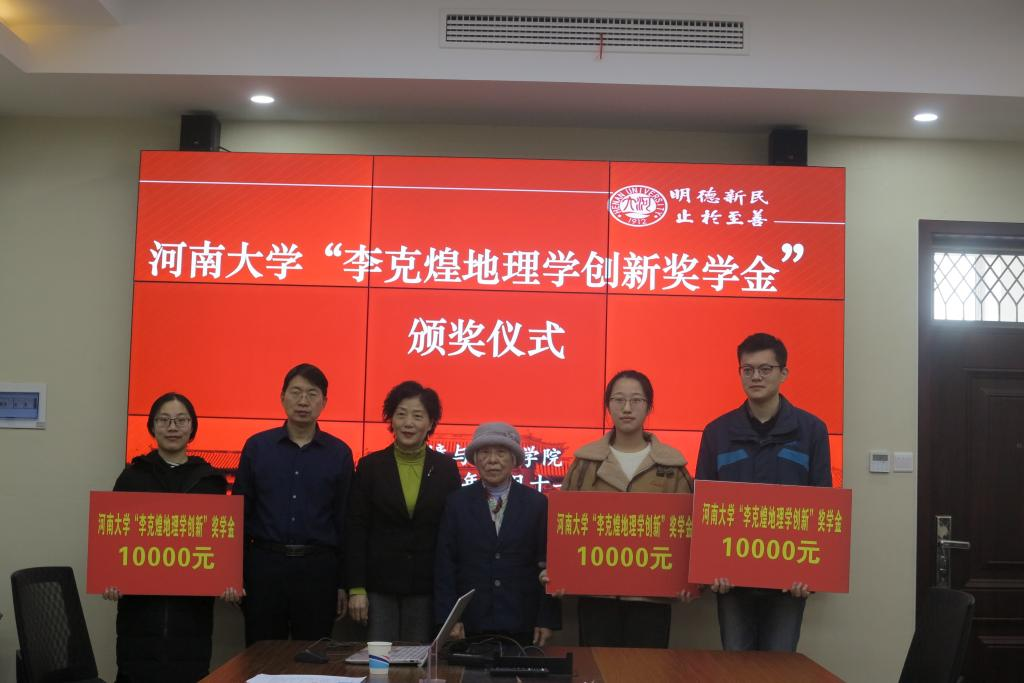 Attachment: speech by Ms. Zhao Jiazhen